Yes - If you don't have an active QuickQual with a Real Estate Agent, they can still sign up for a Realtor QuickQual account.
If you have Realtors you regularly work with but aren't working on an active deal together, have them sign up for a free Realtor QuickQual account! There are a few different ways to invite a Realtor to create an account:
---
Sign up Realtors through your Digital Business Card
This is a great way to sign up Realtors in person! After you send your Realtors your digital business card to sign up, you can also show them how to save your digital business card to their phone.
Open your Digital Business Card by logging in on your phone and tapping the "Business Card" button, or by tapping the Digital Business Card shortcut on your home screen during training.
Share your digital business card with your realtor using the "Share Me" button
Have them tap the "For Real Estate Agents" button, and then select "Need a QuickQual Account? Create One Now!"

The Realtor will be brought to your Realtor Signup page. They'll be prompted to fill in their email address, name, phone number, and company. They will also be prompted to create a password. When an agent successfully signs up, you will receive a confirmation email.
*Pro Tip: Add your Realtor Signup Link to your email signature. Not sure where to find it? Read this article to show you how.
Once the Realtor is logged in, they will have the option to watch a quick one-minute walk-through video. They will also have a "Patrick Purchaser" sample QuickQual in their dashboard. We recommend you teach your agent how to update numbers, generate letters, and find the closing cost summary with this sample QuickQual.


Free PDF Download: How to create an account for Realtors
If you're hosting a Realtor event and plan on signing up multiple Realtors, this one-page how-to gives step-by-step directions on signing up through your digital business card.
---
Share a practice QuickQual new Realtors
Select "Create Sample QuickQual" on the left-hand side of your dashboard and complete Steps 1-3 as normal.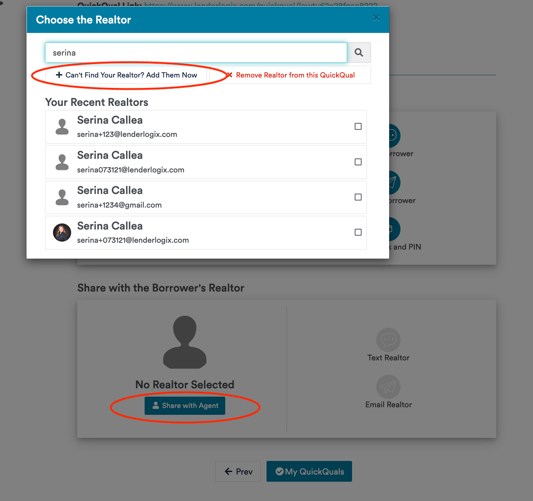 In Step 4 of creating your practice QuickQual, you'll have the option to share it with a new Realtor. To do so, click "Share with Agent", then click "+ Can't Find Your Realtor? Add Them Now."
*For step-by-step instructions on how to assign a new Realtor to a QuickQual, click here