Learn how to invite your Real Estate Agents to create an account and how to assign them to a borrower's QuickQual.
In this article:
---
Invite your Realtor to create a QuickQual Account
You can now invite your Realtor to QuickQual right from the "Realtor Accounts" page in your dashboard navigation!

The "+ Invite a Realtor to QuickQual" button is located in the upper right-hand corner of the "Realtor Accounts" page.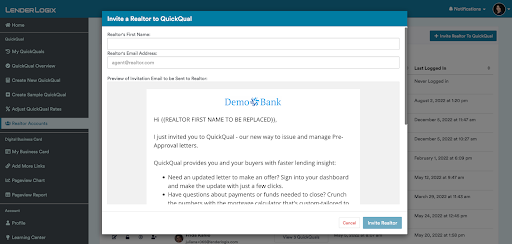 When clicked, you'll be prompted to enter the Realtor's email address. It will also show you a preview of the email your Realtor will be receiving. When you're ready to send the email, click "Invite Realtor" in the bottom-right corner of the email template.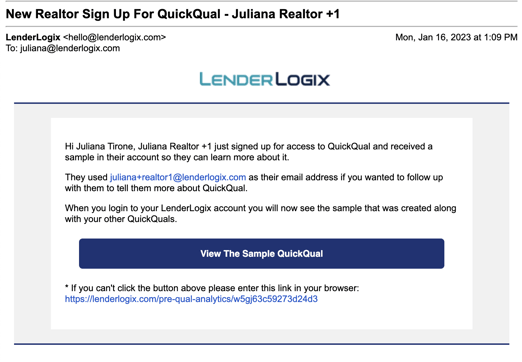 After the Realtor completes the necessary steps, you'll receive a confirmation email where you can update their sample QuickQual. If you haven't already, we recommend that you show your new Realtor how to use the calculator, update prices and generate letters.
---
Assign a new Realtor to a borrower's QuickQual
If you have a Realtor who does not have a QuickQual account but is already working with one of your borrowers who has a QuickQual, we suggest following these steps instead.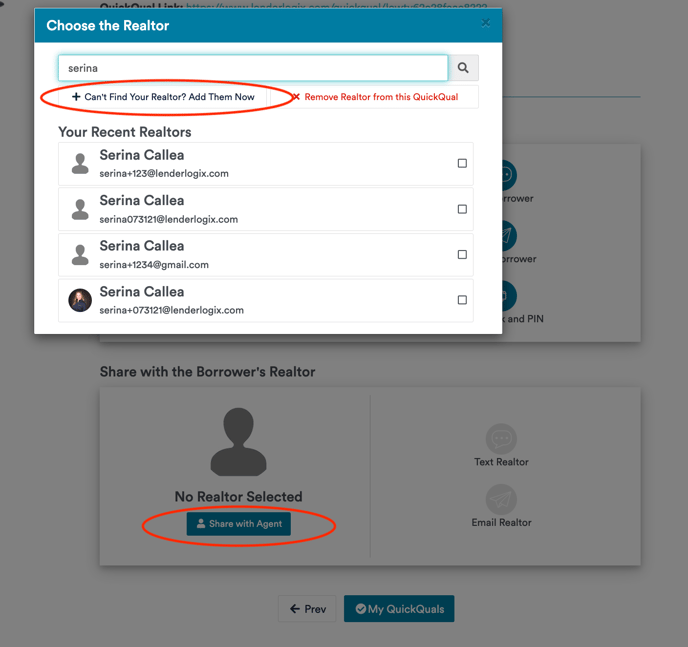 In Step 4 of creating your borrower's QuickQual, you'll have the option to share it with your borrower's Realtor. To do so, click "Share with Agent."
If your Realtor does not already have an account, click on "+ Can't Find Your Realtor? Add Them Now" in the top-left corner of the pop-up window.
Next, you'll be prompted to enter the Realtor's email address and their first and last name. Click "Share Access with Realtor" to complete assigning the Realtor to the borrower's QuickQual. The Realtor will receive an email inviting them to create an account. Once they do, they'll have your borrower's QuickQual in their dashboard.
Pro Tip: After assigning a Realtor, you'll see one last pop-out asking if you also want to text your Realtor their invitation. We recommend also texting your Realtor so they can easily access QuickQual from their phones.
Add a second Realtor to a borrower's QuickQual
Did you know you can share a QuickQual with another Real Estate Agent? Underneath the "Share with Agent" button, you can select "Share with 2nd Agent".
Keep in mind you can only share with two Real Estate Agents per QuickQual.